Planned Giving Menu

You are at: Planned Giving > Gift Options > Donor Stories
Aggie Persistence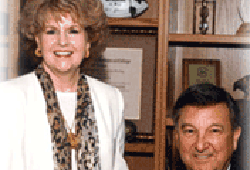 Chaz Neely's '62 career climb to owner of San Antonio Steel Company was not a story of overnight success. He prevailed with grit, determination – and a solid education from Texas A&M. By naming the Texas A&M Foundation owner and beneficiary of a life insurance policy, Trisha & L.C. "Chaz" Neely, Jr. look forward to helping future generations of Aggies.
CHAZ:
For years, I had worked at my father's little service station, fixing flats and pumping gas. Nobody in my family had ever been to college. I thought if I got an education, after some time, my family could have two service stations.
I came to A&M in 1958 and flunked out twice. But I kept coming back. I joined the Corps, which had a great effect on me.
I guess my family believed in me, because they were extremely supportive. There are many keys to success, but you absolutely must have a supportive spouse. Trisha was always there to encourage me. She also has a great love for A&M.
There is just something special and different about A&M and giving back is the right thing to do. The Foundation is an excellent steward of gifts.
We've recently made the Texas A&M Foundation owner and beneficiary of a substantial universal life insurance policy. I learned that life insurance is a simple, efficient way to make a nice gift. You know exactly what the gift amount will be, and there are no negative tax implications for me or the Foundation. I would love to see A&M in the top ten of everything, from athletics to business to the vet school.