Planned Giving Menu

You are at: Planned Giving > Gift Options > Donor Stories
Payback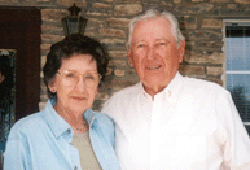 Doris Whitworth and Robert H. Kensing '46 are giving the gift of a lifetime. Successful in their respective careers, the couple focused on investing their earnings wisely. Those financial decisions have allowed them to live their lives the way that they wanted-and to establish a charitable gift annuity through the Texas A&M Foundation.
The Kensings created their charitable gift annuity by transferring significant assets to the Texas A&M Foundation. An agreement between the Kensings and the Foundation guarantees that the Kensings receive fixed payments for life. In addition, the Kensings enjoyed a significant charitable income tax deduction. Part of their gift annuity payments may be exempt from income taxes, as well.
Robert Kensing:
"We decided to give tax-exempt bonds, and the remainder will be used after our lifetimes to support endowments that memorialize two faculty members who nurtured my interest in agricultural economics and pecan culture: Ty Timm, who was the head of the Agricultural Economics Department; and professor Fred R. Brison '21 with the Department of Horticultural Sciences."
The annual distribution from these endowments will be used by the leadership in the Departments of Agricultural Economics and Horticultural Sciences to benefit students and faculty.
The Kensings' gift is in recognition of Texas A&M's influence on both of their lives. Robert earned a bachelor's degree in agricultural economics in 1960. Both Robert and Doris returned to Texas A&M later in their lives to earn master's degrees. In addition, Robert was an economist for 26 years with the Texas Cooperative Extension Service, which is part of The Texas A&M University System.
Robert Kensing:
"I've had the opportunity to work with a lot of good coworkers and the opportunity to make a lot of friends over a big part of the country. Now the time is right to return our mentors' gifts (that have had such a profound influence on their lives)."