Planned Giving Menu

You are at: Planned Giving > Gift Options > Donor Stories
Hammond Scholarships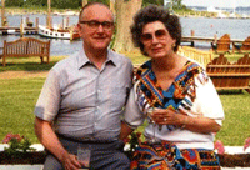 Gratitude Prompts Alum Wilton Hammond to Establish A&M Scholarships
Wilton Hammond, Class of 1948, says it was Texas A&M that strengthened his values, gave him leadership skills, and prepared him for his rise to president and chairman of Carter & Burgess, one of the nation's leading civil engineering firms. He is now chairman emeritus.
In appreciation, Hammond and his wife, Camille, established scholarships in the names of Eugene H. Carter and John J. Burgess, created two charitable gift annuities and plan to acquire a third gift annuity. The gift annuities provide payments to the Hammonds for the rest of their lives and have entitled the couple to several tax advantages. At the end of the agreement, the annuities will ultimately fund additional endowed scholarships in civil engineering.
"I got a great civil engineering education and took this opportunity to help other young people get an education, and perpetuate the profession," says Hammond. "This is payback for what the school did for me."