Planned Giving Menu

You are at: Planned Giving > Gift Options > Donor Stories
The "Gift That Gives Twice"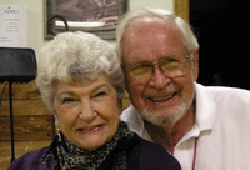 Byron and Angela Maxwell have a selfless goal: To see more of today's young men and women become outstanding business, professional and military leaders-and do it with honor, integrity and character.
Their method of realizing this goal-while also providing for their family-is a testamentary unitrust with the Texas A&M Foundation. It will one day fund a minimum of 10 scholarships.
"We cannot adequately express our strong belief that the values taught at A&M are the values we most need in society today," says Byron, a 1947 graduate.
The Maxwells are using estate assets to set up the unitrust which will begin after their lifetimes. It will provide significant payments for their two daughters and four grandchildren and then endow the Byron and Angela Maxwell Scholarship Fund. This is in addition to two scholarships they've already established.
"This is the gift that gives twice-to family and Texas A&M," Byron says. "It's almost too good to be true."