Planned Giving Menu

You are at: Planned Giving > Gift Options > Donor Stories
Fish Drill Team Forever Fortified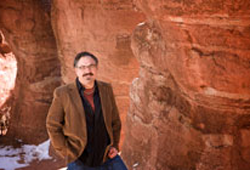 Life lessons learned from Fish Drill Team
R Scott Lord '85 deeply appreciates the time he spent on the Fish Drill Team as a student at Texas A&M. Through the Corps, Lord acquired the self-discipline and spirit of teamwork that has carried him through many challenges. "You have special times in your life that really stand out," Lord says. "When you work hard at something and you are successful, you have lots of pride in yourself. I have a huge appreciation for what the Fish Drill Team did for me." Lord and his brother, J. Steven Lord '86, were in the Corps together, and Steven was the commander of the Fish Drill Team.
In 2006, Lord's mother died, and he was the executor of her estate. "As my brothers and I worked to create a legacy for her, it made me start to think about my legacy," he said. "We get so caught up in the day-to-day activities of accumulating wealth for retirement that we often don't think about creating a legacy."
Answers from a postcard
Lord found the perfect way to give when he received a postcard from the Texas A&M Foundation about life insurance gifts. As the owner of three life insurance policies he decided to use one to benefit A&M.
Lord called Glenn Pittsford, the Texas A&M Foundation's assistant vice president for gift planning, to discuss a life insurance gift. Lord then made the Foundation the beneficiary of the policy and designated the funds for the Fish Drill Team. "The giving process was super-easy. I sat down with my insurance agent, and we talked about what I wanted to do with the gift. I simply filled out a change of beneficiary form, and then Glenn put together the gift agreement."
Lord's eternal impact
His gift will add to the Fish Drill Team Endowment so future Aggies will forever benefit from the life-changing experiences that this Corps of Cadets program offers. In addition, Lord is encouraging other former students and A&M supporters to grow the endowment.
By making the Foundation the beneficiary of his insurance policy, Lord is recognized as a Heritage member of the A&M Legacy Society. "One advantage of a life insurance gift is that I am able to give right now," Lord said. "It was a proud moment for me to participate in creating my legacy."