Planned Giving Menu

You are at: Planned Giving > Gift Options > Donor Stories
Change Your Beneficiary, Change a Life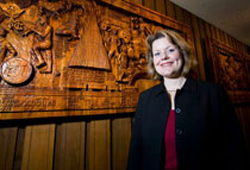 Throughout her career, Linda Biel '86 has excelled at marketing and business development in positions that have taken her all over the world. By designating the Texas A&M Foundation as beneficiary of her individual retirement account (IRA), she pays tribute to the experiences at Texas A&M University that were crucial to her success.
"It was very easy for me to accomplish this planned gift," Biel says. "All I did was contact my account custodian and change the beneficiary of my IRA to the Texas A&M Foundation." By informing the Foundation of her intention and providing a copy of the beneficiary change, Biel is now recognized as a Heritage Member of the A&M Legacy Society. And she can designate use of this future gift for the Aggie activities that mean so much to her.
While pursuing a bachelor's degree in industrial engineering, Biel was active in the Student Government Association and several Memorial Student Center committees. She served as a counselor and chairman at Fish Camp, and was a member of Kappa Kappa Gamma and Cap and Gown.
Biel says programs such as these provide students with skills in project management, leadership and community involvement. These opportunities make Texas A&M special and position students for strong starts to their careers. "When people were reviewing my résumé," Biel says, "they were interested in seeing a combination of your degree, good grades and the activities you were in. I think that helped set me apart."
She made the Foundation the beneficiary of an IRA after speaking with David Wilkinson, the Foundation's East Coast director of major gifts. They discussed various giving opportunities for Texas A&M through the Foundation as well as her experiences while in school.
Biel chose to direct her gift to the Division of Student Affairs to help other Aggies learn to be leaders and well-rounded members of society, skills that she acquired at A&M outside the classroom. Her gift helps ensure that this unique part of Texas A&M continues. "It's something I really care about, and I just want to make sure that the variety of programs remains available, so that every student who comes to A&M has the same opportunities to benefit from student activities as I did. Student programs are the 'secret sauce' that makes Texas A&M unique."