Planned Giving Menu

You are at: Planned Giving > Gift Options > Donor Stories
Corps Contributions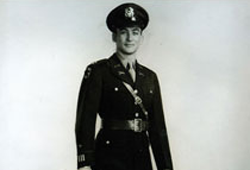 Throughout his life, the late Johnson D. "Shady" Strickel '49 exemplified what it means to be an Aggie. His Aggie spirit continues through two J.D. Strickel '49 General Rudder Corps Scholarships that were established in his will.
These scholarships provide Corps of Cadets members with financial assistance so they can participate fully in the Corps and other student activities instead of needing to work long hours at a part-time job.
The Corps made a strong impression on Shady Strickel, who was a native of Beaumont. "He just loved being an Aggie and always said that if he could live that life again, he would have," said his wife, Betty Strickel.
After his passing, she called the Corps to ask for six cadets to serve as pallbearers at his funeral. When 10 cadets showed up to assist, Betty Strickel was reminded of the impact the Corps had on her husband - and vice versa. "Shady just wanted to give back to the Corps so he could help it live on," she said.
And Shady Strickel did give back, very generously, to Texas A&M. In addition to his $100,000 bequest for the two General Rudder Corps Scholarships, Strickel donated his time and contributions to several clubs and organizations that support the university.
Johnson D. "Shady" Strickel died in March 2007. And he has been missed, although his legacy lives on through his two General Rudder Corps scholarships, which are given to cadets who wish to learn leadership while maintaining academic success.
Example bequest language
–
The following language may aid you and your attorney in preparing your bequest to the Texas A&M Foundation for the benefit of Texas A&M University.
I give, devise and bequeath to the Texas A&M Foundation, a nonprofit corporation organized in accordance with the laws of the State of Texas for the purpose of supporting Texas A&M University, an educational institution, located at College Station, Texas,
a) the sum of $____________________________ ;
b) the following described property ______________________ ;
c) (______________ % of) the rest, residue and remainder of my estate.
The property comprising this gift may, for investment purposes, be merged with any of the general investment assets of the Texas A&M Foundation, but the gift shall be entered in the foundation's books and records as the _________ Fund, and shall always be so designated. The distributions from the fund shall be used
a) to further the purposes of the Texas A&M Foundation in its support of Texas A&M University;
b) to provide scholarships for deserving students of Texas A&M University;
c) to provide support for the College of ________________ at Texas A&M University;
d) to support a professorship in ___________ at Texas A&M University.
If you select a specific purpose for your gift, inclusion of the following sentence will ensure that the bequest remains useful through many decades.
If, in the judgment of the Foundation Board of Trustees, changed circumstances should, at some future time, render the designated use of this fund impracticable, unwise or inappropriate, then the Board shall use the fund to further the objectives and purposes of Texas A&M University, giving consideration to my special interest as evidenced by the purpose described above.
If you choose to name the Texas A&M Foundation as a beneficiary, please let us know of your plans. This will enable us not only to show our appreciation of your generosity, but also to include your support in planning for the future of Texas A&M.