Planned Giving Menu

You are at: Planned Giving > Gift Options > Donor Stories
Building a Platform in Civil Engineering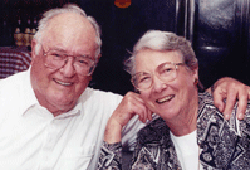 John J. Bardgette '45 established his most important partnership when, after a brief courtship, he married his wife, Jean, in June 1946. He moved his new bride to College Station nine months later, after she graduated from the Government's Cadet Nursing Training Program, a few months later so he could resume coursework at Texas A&M University, (which had been interrupted by his World War II service. While Bardgette completed his final two semesters, earning a bachelor's degree in civil engineering, the couple developed a lasting loyalty to Texas A&M that has resulted in the establishment of a charitable remainder unitrust through the Texas A&M Foundation.
Jean:
"I've always considered myself an Aggie. I have a special feeling for Texas A&M from the time that we lived on campus for six months as John finished his coursework."
The Bardgettes decided to establish a planned gift in 2006 after a conversation with a colleague who had created a charitable remainder unitrust. The California couple's gift is designated to support Texas A&M's Zachry Department of Civil Engineering by funding three undergraduate scholarships, two graduate fellowships, an award for the outstanding senior in civil engineering, and an endowed professorship.
To establish their planned gift, the Bardgettes contributed assets to a charitable remainder unitrust that will provide them with a variable stream of income each year. Payments can last for their lifetimes or for any period of time up to 20 years. When the unitrust term ends, the remaining trust assets will go to the Foundation on behalf of Texas A&M University. In addition to receiving a stream of income, a unitrust provides a significant charitable deduction to the Bardgettes during the year in which it is created.
John:
"I'm from the old life view in that I want my child and grandchildren to be financially comfortable, but I don't want them to be spoiled or to throw money away. I've set up the unitrust so that upon the death of the last survivor, the trust will continue for 20 years with the payments going to my grandchildren."
Bardgette's undergraduate degree prepared him for a career with ExxonMobil that spanned 43 years. During that time, he served as project manager for the construction of many oil platforms in the Gulf of Mexico and off the coasts of California and Japan that set water-depth records at the time. Bardgette proudly noted that several ExxonMobil oil platforms designed by fellow Aggie A. L. Guy '47 and constructed under Bardgette's watchful eye were barely damaged by Hurricane Katrina.
Jean:
"The College of Engineering gave John the basis to make the life we've had, which has been a wonderful life. I also think that civil engineering makes a difference in our day-to-day lives. I feel that what we've done (in establishing this charitable remainder unitrust) is a good thing."