Planned Giving Menu

You are at: Planned Giving > Gift Options > Donor Stories
Aggie Intervention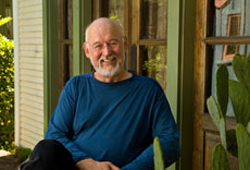 With help from Shelby Metcalf and J. Wayne Stark, a small-town boy is lifted from oil field worker to successful entrepreneur.
As a high school senior, Lee Walker '63 was working in the oil patch in Three Rivers, Texas, when Aggie basketball coach Shelby Metcalf '74 showed up and asked, "Would you like to go to A&M on a basketball scholarship?"
"I was very tall, and I was a good student, so I fit the bill," Walker said. "We went to a basketball court and I played one-on-one with Shelby Metcalf. I was an awkward teenager, and my feet and hands were still slick from the oil patch, but I played OK and he recruited me."
Were it not for his height, smarts and that meeting, Walker may have stayed in Three Rivers all his life.
The Force Field of Stark
During his senior year at A&M, Walker's father died. In that same month he met J. Wayne Stark '39, the first director of the Memorial Student Center. "Little did I know I was entering this force field of Stark," he said. Stark was a father figure, opening Walker's mind to the world. While enrolled at A&M, he studied in Yugoslavia, Sweden and Africa.
Successful Entrepreneur
Walker later attended Harvard Business School. He was president of the startup company that became Dell Computer Corp. He is now a University of Texas professor teaching the honors course Pathways to Civic Engagement. "At Texas A&M, I learned community and place. I didn't learn that at Harvard Business School," Walker said.
Keeping the Gifts Alive
"My wonderful father gave me my life. But Wayne was like an intervention. I want to keep their gifts alive," Walker said. To do so, he is building the J. Wayne Stark/Dallas Walker Leadership Endowment ? honoring both men ? to offer future Aggies a global perspective.
Walker is funding his gift through a bequest to the Texas A&M Foundation. "There is a sense of closure from making an inventory of the gifts you have received and sorting them out in your will. It's not an obligation, but an opportunity," Walker said. "I figured out how to take that gift from Wayne and keep it alive. That is the core of philanthropy."
Walker advises others to think deeply about gifts they received, including an Aggie education, and how to keep those gifts alive. "None of us got where we are by ourselves."
To learn more about how you can keep your own Aggie gifts alive through a bequest to the Texas A&M Foundation, contact
Glenn Pittsford '72
, assistant vice president for gift planning, at (800) 392-3310 or (979) 847-8700.
Bequest Language
The following language may aid you and your attorney in preparing your bequest to the Texas A&M Foundation for the benefit of Texas A&M University.
I give, devise and bequeath to the Texas A&M Foundation, a nonprofit corporation organized in accordance with the laws of the State of Texas for the purpose of supporting Texas A&M University, an educational institution, located at College Station, Texas,
a) the sum of $______________

b) the following described property _________

c) ______% of the rest, residue and remainder of my estate.

The property comprising this gift may, for investment purposes, be merged with any of the general investment assets of the Texas A&M Foundation, but the gift shall be entered in the Foundation's books and records as the _________ Endowment/Scholarship/Professorship/Chair, and shall always be so designated. The distributions from the fund shall be used
a) to further the purposes of the Texas A&M Foundation in its support of Texas A&M University

b) to provide scholarships for deserving students of Texas A&M University



1) for academic achievement scholarships like Presidents Endowed Scholarships

2) for financial need based scholarships like Endowed Opportunity Awards

3) for underrepresented student scholarships like Foundation Excellence Awards

4) for student leadership scholarships for members of the Corps or other student organizations

5) for a general, college or department scholarship endowment


c) to provide support for the College of ________________ at Texas A&M University

d) to support a chair/professorship in ________________ at Texas A&M University.

If you select a specific purpose for your gift, inclusion of the following sentence will ensure that the bequest remains useful through many decades.
If, in the judgment of the Foundation Board of Trustees, changed circumstances should, at some future time, render the designated use of this fund impracticable, unwise or inappropriate, then the Board shall use the fund to further the objectives and purposes of Texas A&M University, giving consideration to my special interest as evidenced by the purpose described above.
If you choose to name the Texas A&M Foundation as a beneficiary, please let us know of your plans. This will enable us not only to show our appreciation of your generosity, but also to include your support in planning for the future of Texas A&M.