Planned Giving Menu

You are at: Planned Giving > Gift Options > Donor Stories
Endowing the Aggie Spirit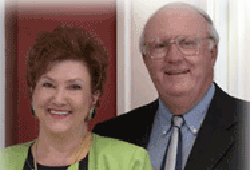 Craig Noonan '66 and his wife, Lynda, are giving back to A&M; to the very programs that inspired them then and today ? athletics, the Corps and the Fightin' Texas Aggie Band.
CRAIG:
I always knew that Texas A&M was where I wanted to go. I had heard about the Aggie Spirit and seen it on TV at the football games. I enjoyed every aspect of Corps, including the tricks we'd play on the upperclassmen. In fact, I loved every minute of A&M.
They recently endowed a two-year Sul Ross scholarship as well as a four-year General Rudder scholarship for Corps students. In addition, a generous bequest in their wills will endow scholarships for the Corps and band and create an unrestricted endowment with the 12th Man Foundation for athletics.
CRAIG:
For anyone who has benefited from all the great things A&M offers and wants to give back, an estate gift is an excellent vehicle. Your estate is there, and it can be used to great value long after you're gone. The endowments will carry on forever.
By funding endowments through their estate, the Noonans are ensuring their gift will benefit future generations of Aggies. An endowment is a permanent fund created from a donor's gift. Annual distributions provide perpetual, ongoing support for the A&M programs of the donor's choice. Donors can name endowments for themselves or in honor or memory of others such as family members, friends or a favorite professor.
CRAIG:
There's just nothing like the excitement of the whole Aggie experience on a football weekend. It means a lot to us to be able to do something in a small way to help A&M.
Bequest Language
The following language may aid you and your attorney in preparing your bequest to the Texas A&M Foundation for the benefit of Texas A&M University.
I give, devise and bequeath to the Texas A&M Foundation, a nonprofit corporation organized in accordance with the laws of the State of Texas for the purpose of supporting Texas A&M University, an educational institution, located at College Station, Texas,
a) the sum of $______________

b) the following described property _________

c) ______% of the rest, residue and remainder of my estate.

The property comprising this gift may, for investment purposes, be merged with any of the general investment assets of the Texas A&M Foundation, but the gift shall be entered in the Foundation's books and records as the _________ Endowment/Scholarship/Professorship/Chair, and shall always be so designated. The distributions from the fund shall be used
a) to further the purposes of the Texas A&M Foundation in its support of Texas A&M University

b) to provide scholarships for deserving students of Texas A&M University



1) for academic achievement scholarships like Presidents Endowed Scholarships

2) for financial need based scholarships like Endowed Opportunity Awards

3) for underrepresented student scholarships like Foundation Excellence Awards

4) for student leadership scholarships for members of the Corps or other student organizations

5) for a general, college or department scholarship endowment


c) to provide support for the College of ________________ at Texas A&M University

d) to support a chair/professorship in ________________ at Texas A&M University.

If you select a specific purpose for your gift, inclusion of the following sentence will ensure that the bequest remains useful through many decades.
If, in the judgment of the Foundation Board of Trustees, changed circumstances should, at some future time, render the designated use of this fund impracticable, unwise or inappropriate, then the Board shall use the fund to further the objectives and purposes of Texas A&M University, giving consideration to my special interest as evidenced by the purpose described above.
If you choose to name the Texas A&M Foundation as a beneficiary, please let us know of your plans. This will enable us not only to show our appreciation of your generosity, but also to include your support in planning for the future of Texas A&M.