Planned Giving Menu

You are at: Planned Giving > Gift Options > Donor Stories
Aggie Roots Run Deep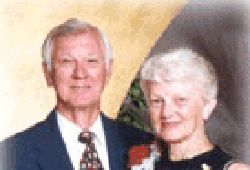 Skip '52 and Jean Johnson recently established a charitable remainder trust. The couple received tax benefits and will enjoy payments from the trust throughout their lifetimes, after which their children will receive payments from the trust for a period of years.
Skip and Jean Johnson – like 50 of the 850 members of Skip's class of '52 – have returned to the Brazos Valley to enjoy retirement close to Texas A&M University.
Skip:
"A lot of us were with oil companies and a lot of us don't have roots. So we just migrated back home."
The Johnsons had been fortunate to invest wisely and they ultimately decided to utilize a charitable remainder unitrust and selected the Texas A&M Foundation Trust Company as trustee. The trust will be a significant gift to them, their children, and many students in the future due to their generosity.
Ultimately the trust will create the Johnsons' legacy gift for Texas A&M: Two-thirds of the gift will benefit Texas A&M in the form of a President's Endowed and Sul Ross scholarships. The remainder will benefit Texas Woman's University, Jean's alma mater.