Planned Giving Menu

You are at: Planned Giving > Gift Options > Donor Stories
Benefit Children and A&M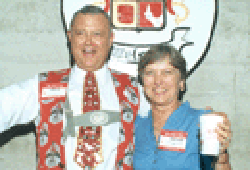 H. Fritz Welsch Jr '53 and his wife, Cora Jane, established a second charitable trust to benefit Texas A&M University. In the years following graduation, Fritz hoped that he would some day be able to give back to Texas A&M for providing a solid foundation on which to go and meet the outside world.
FRITZ:
As a co-class agent for the class of 1953, my wife, Cora Jane, and I made many trips back to the campus, and this is when we were made aware of the many needs of our students and also the needs of Texas A&M.
FRITZ:
Through help from the Texas A&M Foundation we were informed of different ways we could help address these needs, and also help our family.
The Welsches recently made plans to fund a trust after their lifetimes with individual retirement accounts (IRAs). Their children will receive payments for the trust for a period of years. Afterward the trust will support the Welsches' favorite Texas A&M programs.
FRITZ:
Cora Jane and I found that by using both of our IRAs we could establish a charitable remainder trust that would provide payments to our children for a number of years, and then the remainder would go to Texas A&M. This was just a win-win situation for us.
FRITZ:
Working with the fine folks in the Office of Gift Planning at the Texas A&M Foundation was a simple and enjoyable experience, as we and our advisors set up the plan. I would suggest to anyone to consider using their IRAs to establish a trust for their relatives and Texas A&M like we did. Once you've done this you will experience a satisfying feeling, just as Cora Jane and I did, and realize how easy it is to do so much good with your IRAs.