Planned Giving Menu

You are at: Planned Giving > Gift Options > Donor Stories
To This Day I Eat Supper and Go Study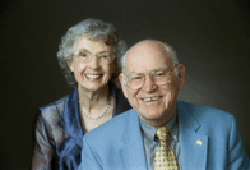 Dr. Lee R. Radford '53 can trace his strong allegiance to Texas A&M University back to the Riverside Campus (Bryan Army Airfield Annex) barracks where he lived for one year. Part of the last class to live in the barracks, the Dallas resident and his classmates only saw campus on the weekends during football games. Now a successful diagnostic radiologist, Radford believes the discipline he learned in the Corps of Cadets has had a marked impact on his life.
Radford:
"In my generation, we felt very strongly about the school and the Cadet Corps. It instilled a lot of personal strength and leadership capabilities. To this day, I eat supper and go study."
As active financial supporters of the university throughout the years (as well as the parents - and now grandparents - of Aggies), Radford and his wife, Betty, decided to establish a charitable annuity trust. In return, the Radfords receive fixed annuity trust payments for life.
Upon termination, the assets of the trust will establish three different funds at the Texas A&M Foundation that will benefit the Corps of Cadets, in accordance with the Radford's wishes.
Radford:
"I think first of all you need to think about it as a gift for Texas A&M. It's not simply saying goodbye to your money. It's a good vehicle for the school and for us. It had the complete support by my CPA and personal lawyer."
Radford, who served St. Paul Hospital for 23 years as chairman of diagnostic radiology, was named the chairman emeritus of diagnostic radiology at the University of Texas Southwestern University Medical Center St. Paul Hospital in Dallas in 2003. He credits Texas A&M for his flourishing and rewarding career.
Radford:
"We went to A&M to learn how to make a living. I did that, and now we're giving back to Texas A&M because the school helped me get where I am today."